There are many web browser settings that can affect how courses launch. Here are some steps you can take to ensure your experience is not interrupted:
 Step 1: Verify that your "pop-up blocker" is not blocking the course.
Step 2: Verify that your "Adobe Flash" and "Java Script" are enabled.
Google Chrome:
While the course is launched in Google Chrome, click on the "Secure" button to the left of the Web address box. Once this is selected verify that "JavaScript" and "Flash" are marked as "allowed", then clear your web browser's cache and cookie data prior to re-launching.
Internet Explorer 11:
Select "Internet Options"

"Internet Options" is the second-last option:

Select the "Security" tab

The window which has just appeared will have a tab labled "Security"; please click it:

Click the "Custom Level..." button

Enabling or disabling JavaScript in Internet Explorer involves setting a custom security level; so click the button to modify it.

Scroll down and change the Active Scripting setting

Scroll down to the section titled "Scripting". There is a sub-section called "Active scripting". Click the option "Enable" to enable Javascript. Press the "OK" button to save this change.

Confirm the change

Because you are changing an important setting, Internet Explorer will prompt you to confirm that you really want to do this. Press the "Yes" button to confirm this change.

Close "Internet Options"

You are now returned to the original "Internet Options" window. Press the "OK" button to close it and return to your normal web browsing.

JavaScript is now enabled
How to enable Adobe Flash for IE
Click the Tools icon in the upper-right corner of Internet Explorer. (The icon looks like a gear.)
In the pop-up menu that appears, click Manage Add-ons.
In the dialog box that appears, select Toolbars and Extensions.
In the list of Add-ons, look for "Shockwave Flash Object" (another name for Flash Player).
In the Status column, check to see whether Shockwave Flash Object is Disabled. If it is disabled, click the row for Shockwave Flash Object to highlight it.
In the lower-right corner of the Manage Add-ons dialog box, click Enable.
Click Enable in the lower-right corner.
 Safari:
STEP 1
Open Safari and click on the Safari menu and go down to 'preferences...'.
STEP 2
Click on the Security tab.
STEP 3
Make sure the 'Enable JavaScript' checkbox is ticked and the 'Accept Cookies - Always' option is selected.
Note: If these options are already set correctly continue onto the next step.
STEP 4
Now that you have completed these steps click the Close button at the top of the window.
STEP 5
You should now close Safari and then restart your Mac.
How to enable Adobe flash for Safari:
Open Safari, and choose Safari > Preferences.
Setting Safari preferences
Note:
If you are viewing Safari in full-screen mode, mouse over the top of the browser screen to see the menu.
Click the Security tab. Ensure that Enable JavaScript and Allow Plug-ins are selected. Click Plug-in Settings.
Safari 10.0 Security settings

Select Adobe Flash Player.
From the When visiting other websites menu, choose On, and then click Done.
For each website appearing in Currently Open Websites, choose On in the menu on the right.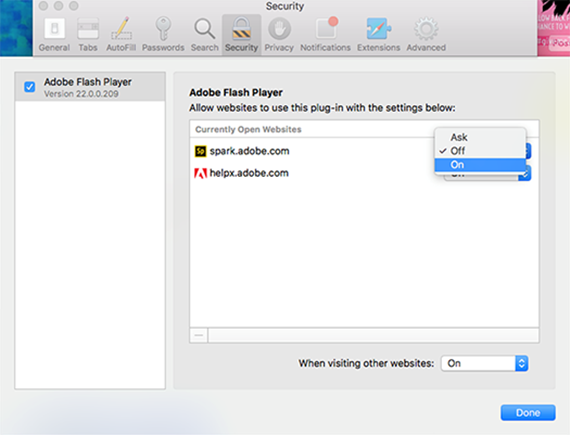 Firefox:
 To enable JavaScript for Mozilla Firefox:
Click the Tools drop-down menu and select Options.
Select the Content section from the options at the top of the  pop-up page.
Check the boxes next to Block pop-up windows, Load images automatically, and Enable JavaScript.
Click OK.
Refresh your browser by right-clicking anywhere on the page and selecting Reload, or by using the Reload button in the toolbar.
How to enable Adobe Flash for Firefox:
Choose Firefox > Tools > Add-ons and Open the Add-ons dialog box.
Select Plugins.
In the list of Add-ons, look for Shockwave Flash (another name for Flash Player) and check the status that appears to the right of the plug-in name.
Notice Shockwave Flash is disabled.
Select Always Activate and Enable the plug-in.
**Note: Make sure that your web browser's "cache" and "cookies" have been cleared after making any setting changes (always select the option to clear this data as far back as possible).
If the issue still persists after making theses adjustments, please use the FAQ on "Adding sites to your Trusted Sites".